In order to scale up agroecology, it is critical to document and analyse its development in different contexts as a necessary step to attain significant insights about the state of the art of agroecology, as well as to support its expansion and use at the policymaker level. Based on the mapping of agroecology in different European countries, AE4EU (Agroecology for Europe) and Agroecology Europe are going to launch the first volume of a book series that presents the latest findings on the development of agroecology in Europe.
The mapping methodology relies on two concepts: key informants and initiatives. The key informant corresponds to a diverse range of experts providing information regarding one or more activity categories: scientific discipline, practices, movement, living labs, and education and training. The initiatives correspond to formal action led by an organisation towards agroecology that will be called "initiatives".
Building on these notions, the mapping methodology is organised into four steps:
Find key informants and interview them.
Select the initiatives and analyse them through in-depth interviews complemented by desktop research.
Analyse the data that was collected with complementary desktop research, and categorization into one of the five activity categories.
Internal and, in some cases, external review of the country reports that present the results of the development of agroecology in a specific.
This mapping is not foreseen to be completely exhaustive, but rather illustrative, synthesising and providing key information on the road to building a common understanding of agroecology, as well as its development at the European level.
The launch of the book series is a significant step towards promoting sustainable farming and food systems practices in Europe. The first volume, "Mapping The Development of Agroecology in Europe," provides valuable insights into the state of the art of agroecology in 13 European countries and serves as a critical resource for policymakers, researchers, and practitioners in the field.
You can find the book in open access here: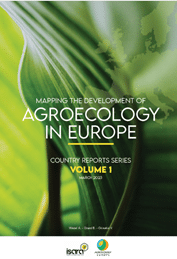 –
–
–